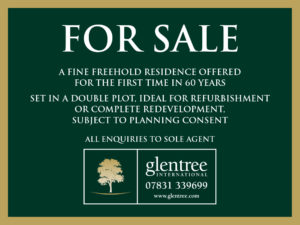 The double dose of pain from Stamp Duty hikes and a faltering Brexit have induced torpor into the Residential Property Market. So it is an opportune moment to review marketing techniques that will help deliver a sale, even in these turgid times.
Those who sneer at the For Sale Board and dismiss it as 'Prehistoric' or think of it as an agent's conspicuous self-aggrandisement, are guilty of a gross misunderstanding. You, the consumer, maybe losing out.
The humble For Sale Board
The humble For Sale Board is the cheapest and most effective marketing weapon in the agent's armoury. It's incredible commercial potency is underestimated by the consumer and sadly, even by some estate agents.
I have spent the best part of 45 years in this business trying to persuade some sellers or landlords to switch on their brains and embrace the promotional ability of the simple For Sale or To Let Boards. Sometimes we are all guilty of over thinking a problem and yet the simple solution may be staring us in the face.
At least a third of the market is comprised of latent purchasers/tenants. These could be the most enthusiastic buyers/tenants of a property, if they were actually on a mailing list, or took notice of adverts, which may not be the case. However, their bricks'n'mortar enzymes start flowing in profusion once they see a For Sale Board whilst on their travels, which is the only way an estate agent can get hold of this enquiry.
The following example tells you everything you need to know. A prospective applicant may be walking or driving through an area and they see a board outside a property. They are invariably relaxed and it prompts a thought that they like the look of the place, which in turn leads to a call to the agent, whose number, conveniently, is on the board. Once they hear the price and find it amenable, it is only the interior or the garden that needs approval before purchasing or renting. So already, three out of the four imponderables in a deal have been resolved before an applicant sets foot in the door.
This is an absolute gift for both seller and agent alike, as it saves them many fruitless hours of hustling and cajoling. Thanks to the board, this is an enquiry that can easily convert into a sale or letting, which otherwise may not have taken place.
English custom of social anxiety
However, there is also the quaint English custom of social anxiety – the seller or landlord feels that a board 'violates' their all-important privacy. For the neighbours to know that they are selling/renting ahead of time, is equivalent to flashing one's underwear in public.
In my view, this is pure horse feathers. The mere sight of a stranger clutching their particulars, accompanied by a sharp-suited agent shows the curtain-twitchers that you are selling your house. Not only do you lose out on the wider access to the market brought by the board, but the rubber-neckers, with dull lives, know all about your plans anyway through the property portals.
Any market has its time-wasters and property is no different. In this case, it's potential sellers who casually punt out their properties without any real intention to offload, giving the agent some blether that they'll only consider selling if they achieve the right price. Not only is this infuriating to applicants, who quite rightly, resent being messed around, it's tantamount to the moral prohibition of 'putting a stumbling block before the blind'. The good news is that these vacillating types never use a For Sale Board. If you do see one outside a house it can demonstrate that the owners are serious about doing business.
The board's utility extends well into the sales process, reminding the buyer that they have to (literally) keep things moving through the conveyancing process or else they will lose out. When dealing with sleepy solicitors, who time themselves by calendar, this is a definite advantage.
Such good value
Besides, what else gives such good value for £20 these days? For the price of an estate agent's weekly hair-gel bill, a For Sale Board allows you to capture a part of the market that would ordinarily be out of reach, separates the clowns from the genuine vendors and keeps everything on track when a sale has been agreed. All in all, a staggering list of benefits for some bits of wood and paint which the client doesn't even pay for.
So, if you really want to sell, don't complain that the market is lethargic, allow the agent to release the power of the board for you, at zero cost.
And they say there is no such thing as a free lunch!