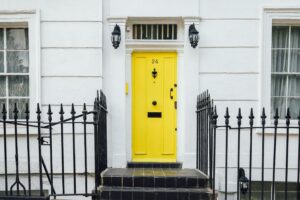 One of the major planks of Margaret Thatcher's deregulation initiatives, during the 80s, was to allow council house tenants to buy their own homes and become part of the 'great British property-owning society'.  A purchase then for circa £60,000, is today worth circa £6-700,000.  One of the fortunate former tenants now has a nest egg, invariably free of debt, which when sold could buy a smaller property for themselves and release a handsome amount of cash that could provide a quasi-pension for their old age and possibly, in addition, give their offspring a 'leg up' by way of a deposit on their homes.
Boris Johnson and Michael Gove have announced an initiative whereby social housing tenants can also buy their own properties using their Housing Allowance and Universal Credit Benefit (if applicable) towards funding their own mortgage costs.
So that the social housing stock is not depleted by this arrangement, the government intend to replace these properties on a one-to-one basis, which is an excellent idea. The downside of Thatcher's plan was that the council houses were not replaced on a pro-rata basis and therefore, the number of these dwindled over the course of time.
I am delighted that the government are at last trying to solve the problem of servicing the mortgages on a purchase for former tenants, since this was the most common insurmountable stumbling block preventing them from buying their own homes.
Although landowners will baulk at the prospect of paying higher taxes for planning consent to develop land, I suppose there is no other feasible way to fund this process given the limitation of government resources for this purpose.
There is no question that although the government's plan to build 300,000 new homes per annum is not going to be satisfied, these measures should bolster this campaign so that the aspirations can be delivered.
Lest we forget, in Thatcher's time the UK built 300,000 homes for a country which had 19% less by way of population.
Any attempt by the Prime Minister or Michael Gove, to increase the supply of housing will undoubtedly assist the gap that presently exists in the supply which will help lessen inflationary pressure in house-prices, which recently have been circa 10% across the UK.
The numbers of new homes built could be constrained by the inflation in building and labour costs which, in some cases, has been as high as 25%.  Some development schemes will be rendered unviable if these costs continue to rise unless property values appreciate commensurately.  Interruption in the supply chain is the legacy of Covid and the lack of foreign nationals in the construction industry does not help either. Shipping costs have 'gone mental' over the past two years and some developers are being forced to accumulate materials in warehouses that they need for future development, so that their production line is not so vulnerable to interruption. Also, this method helps them contain the explosion in prices which otherwise makes the imponderables of residential development costs more onerous.
Construction companies are wary of fixed price contracts due to inflationary pressures and far prefer cost-plus arrangements which are flexible and can more easily cater for rising prices of materials, although it does not provide much comfort for the developers who are trying to protect their profit margins.
I know several companies that are reluctant to build out residential land for these reasons.
Michael Gove also hinted at an exponential and penal rate of council tax charge for empty second homes which has become a great source of irritation to hungry potential house buyers, desperate to get onto the property ladder.
We have all got 'party gate' fatigue and if these initiatives are the flavour of the government wanting to refresh the agenda, from my point of view, it's not a moment too soon.